Thanks to Robert Shiller, we have a cyclically-adjusted price-to-earnings (CAPE) ratio of a stock market, which is one of the most uselful metrics used to evaluate whether a market is undervalued, overvalued, or fairly-valued.
Price/earnings ratio based on average inflation-adjusted earnings from the previous 10 years, known as the Cyclically Adjusted PE Ratio (CAPE Ratio), Shiller PE Ratio, or PE 10.
WHAT IS THE DIFFERENCE BETWEEN P/E AND CAPE?
P/E ratio is a Price/Earnings ratio for the last year. Shiller calculates currect stock's price for it's 10-year average earnings, adjusted with inflation. It gives a bigger picture of a company's valuation.
PE10 is a current Share Price divided by 10-year average, inflation-adjusted earnings.
HOW IS CAPE CORRELATED WITH POTENTIAL RETURNS?
Please see below connection between the CAPE and the returns of the 15 following years in the period 1881-2013 (US) and 1979-2013 (other markets).All returns are inflation-adjusted, in local currency, including dividend income and annualized. Source: starcapital.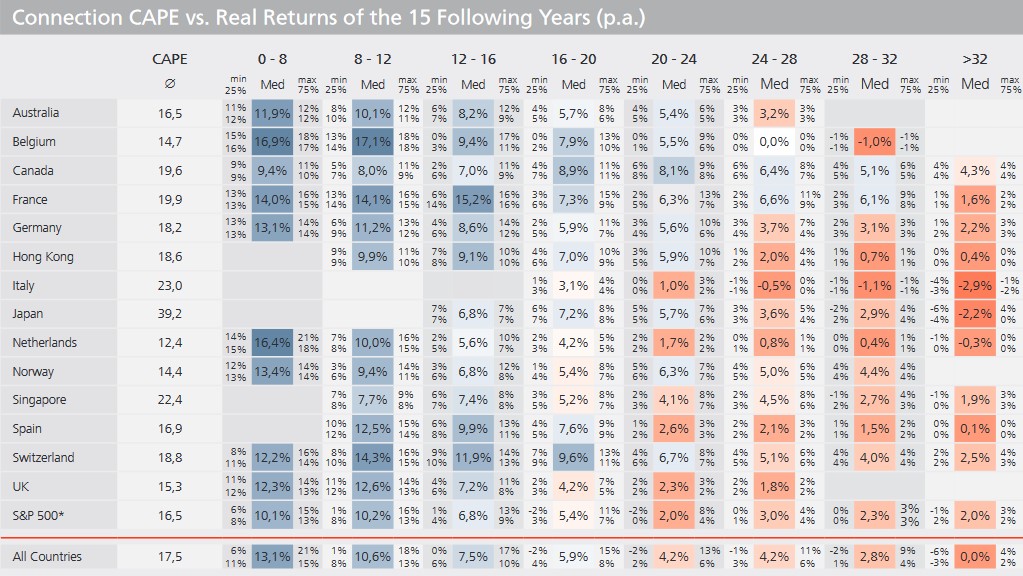 As we can see, there is an absolute correlation between the CAPE and Real Returns. Generally, the lower the CAPE, the higher returns we can expect in the future. This is pretty intuitive – when stocks are very cheap, they have a great potential to increase in price. In other way, when stocks are already expensive and already have a high P/E ratio, they have a lot less room to grow and a lot more room to fall the next time there's a recession or market correction.
HOW DO YOU USE CAPE ON A DAILY BASIS?
For me CAPE is one of the most important indicators. The lower it is – generally the better. I also use it as a potential point to sell shares if a stock becomes overvalued in the future.
CAPE vs P/E - WHAT to choose?
Do not choose. Use both. You can compare CAPE and P/E values, it will give you a small image of a general price-to-earnings ratio from previous 10 years and the last year. If P/E ratio is much higher than the CAPE, it indicates the last year decrease in earnings compared to the 10-year history. I like when both the PE10 and P/E ratio are low.
can i use cape as exit-position indicator?
If for example you have entered a stock with a CAPE of 9 and 5 years later it raised to 18, this might be a good moment to sell your shares and invest money on something 'cheaper'. You decide what levels to use.
what advice you have for us?
If you have not ever been using CAPE, start today. It is a very powerful indicator that connects earnings from previous 10 years and inflation. If I had to choose only one indicator I could use to invest, it would be CAPE.
You can always share this page via: